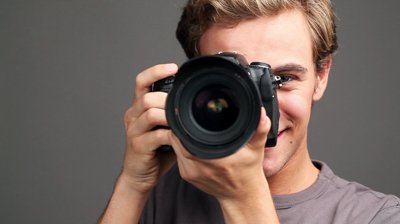 This arti­cle from PerthNow http://www.perthnow.com.au/news/western-australia/bizarrre-man-assaults-woman-photographs-her/story-fnhocxo3-1226656772796 gives the cap­tion 'Bizarre: A man gropes a wom­an's thigh and then takes a pho­to­graph of her at a Perth shop­ping cen­tre.' to their photo.
Problem is that the man with the cam­era in the pho­to isn't the grop­er, and nei­ther does he have any­thing to do with it (we pre­sume). Rather the per­son is Kai Wong from DigitalRev, and the screen­cap­ture is from this review he did here: http://www.youtube.com/watch?v=3RVh2HC0KSw at 1m38s.
One can only pre­sume that this isnt the per­son involved, giv­en that the footage is shot in Hong Kong rather than Perth.
However, for a por­tion of the PerthNow read­ers the grop­er and creepy pho­tog­ra­ph­er has been inex­tri­ca­bly linked with Kai Wong, a cam­era review­er about 6,000km away.
Plus pho­tog­ra­phers who use SLRs every­where have been fur­ther sul­lied as per­verts, just to add to the per­cep­tion that any­one wan­der­ing pub­lic streets with a cam­era is instant­ly dodgy. Seriously, if a creep want­ed to take lewd or creepy pho­tos then the last thing they will want to do is to raise a 2kg cam­era and lens to their eye, espe­cial­ly one that draws instant atten­tion like an SLR.
Thanks PerthNow for your impec­ca­ble jour­nal­is­tic ethics.
Screenshot of the arti­cle stored here for posterity: