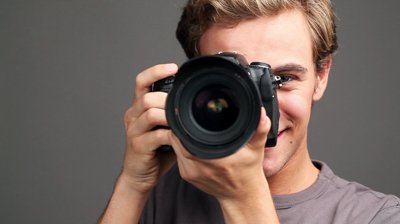 This article from PerthNow http://www.perthnow.com.au/news/western-australia/bizarrre-man-assaults-woman-photographs-her/story-fnhocxo3-1226656772796 gives the caption 'Bizarre: A man gropes a woman's thigh and then takes a photograph of her at a Perth shopping centre.' to their photo.
Problem is that the man with the camera in the photo isn't the groper, and neither does he have anything to do with it (we presume). Rather the person is Kai Wong from DigitalRev, and the screencapture is from this review he did here: http://www.youtube.com/watch?v=3RVh2HC0KSw at 1m38s.
One can only presume that this isnt the person involved, given that the footage is shot in Hong Kong rather than Perth.
However, for a portion of the PerthNow readers the groper and creepy photographer has been inextricably linked with Kai Wong, a camera reviewer about 6,000km away.
Plus photographers who use SLRs everywhere have been further sullied as perverts, just to add to the perception that anyone wandering public streets with a camera is instantly dodgy. Seriously, if a creep wanted to take lewd or creepy photos then the last thing they will want to do is to raise a 2kg camera and lens to their eye, especially one that draws instant attention like an SLR.
Thanks PerthNow for your impeccable journalistic ethics.
Screenshot of the article stored here for posterity: