Another week has flown by in a flur­ry of study and catch ups. It was a short week with only one day at col­lege (due to ANZAC day and read­ing days) but with some big essays due in the next cou­ple of weeks we have been try­ing to keep our heads down and focus on study.
This has been a lit­tle bit of a chal­lenge this week because true to east coast style, the weath­er has turned. Sarah (our house­mate) found the cold snap difficult:
But as all Canberrans know (or should) the heater can't go on until ANZAC day… so for­tu­nate­ly it was ANZAC day on Wednesday and we could all get back to being com­fort­able with­out hav­ing to don blan­kets. Meanwhile, isn't this the best idea ever:
That's right, warm dry tow­els every day! On the oth­er hand the poten­tial for water going down the duct when get­ting out of the show­er is prob­a­bly not such a bright idea, how­ev­er we're enjoy­ing the warm towels!
I have been told that for Melbournians the best method for dress­ing in cold weath­er is lay­ers, I think this is because when you leave the house it might be rain­ing but when you go out at lunch the sun can be shin­ing bright and hap­py. So I tried out the lay­ers yesterday: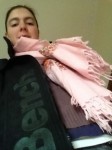 Yep, that's four lay­ers right there. I was quite com­fort­able all day, thanks for the tip Melbournites.
The most dis­tress­ing part of this week was when I received the fol­low­ing text message:
Yes, a mouse.… it's ok though, I am liv­ing in bliss­ful denial as I am yet to see afore­men­tioned crit­ter and so will con­tin­ue to believe it does­n't exist.
I also enjoyed some won­der­ful catch ups this week. I spent an encour­ag­ing day with my cousin on Tuesday and had a fan­tas­tic invig­o­rat­ing con­ver­sa­tion with a new friend from church who is just start­ing out in her Christian journey.
Meanwhile we press on with our assign­ments: I'm cur­rent­ly work­ing on an assign­ment about my under­stand­ing of min­istry and an essay look­ing at how God's promise to Abraham affects a bib­li­cal under­stand­ing of mis­sion. Chris is work­ing on an essay about Jonothan Edwards' under­stand­ing of the Trinity and an essay look­ing at the Corinthians under­stand­ing of the res­ur­rec­tion in 1 Corinthians 15.
Praise God with us for:
‑Wonderful house­mates and a great place to live this year
‑The oppor­tu­ni­ty we have to set aside time to learn about God
‑Wonderful faith conversations
Please pray with us for:
‑Ongoing oppor­tu­ni­ties to have real con­ver­sa­tions about God
‑That we will con­tin­ue to trust in God's pro­vi­sion for us