Another week has flown by in a flurry of study and catch ups. It was a short week with only one day at college (due to ANZAC day and reading days) but with some big essays due in the next couple of weeks we have been trying to keep our heads down and focus on study.
This has been a little bit of a challenge this week because true to east coast style, the weather has turned. Sarah (our housemate) found the cold snap difficult:
But as all Canberrans know (or should) the heater can't go on until ANZAC day… so fortunately it was ANZAC day on Wednesday and we could all get back to being comfortable without having to don blankets. Meanwhile, isn't this the best idea ever:
That's right, warm dry towels every day! On the other hand the potential for water going down the duct when getting out of the shower is probably not such a bright idea, however we're enjoying the warm towels!
I have been told that for Melbournians the best method for dressing in cold weather is layers, I think this is because when you leave the house it might be raining but when you go out at lunch the sun can be shining bright and happy. So I tried out the layers yesterday: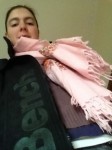 Yep, that's four layers right there. I was quite comfortable all day, thanks for the tip Melbournites.
The most distressing part of this week was when I received the following text message:
Yes, a mouse…. it's ok though, I am living in blissful denial as I am yet to see aforementioned critter and so will continue to believe it doesn't exist.
I also enjoyed some wonderful catch ups this week. I spent an encouraging day with my cousin on Tuesday and had a fantastic invigorating conversation with a new friend from church who is just starting out in her Christian journey.
Meanwhile we press on with our assignments: I'm currently working on an assignment about my understanding of ministry and an essay looking at how God's promise to Abraham affects a biblical understanding of mission. Chris is working on an essay about Jonothan Edwards' understanding of the Trinity and an essay looking at the Corinthians understanding of the resurrection in 1 Corinthians 15.
Praise God with us for:
-Wonderful housemates and a great place to live this year
-The opportunity we have to set aside time to learn about God
-Wonderful faith conversations
Please pray with us for:
-Ongoing opportunities to have real conversations about God
-That we will continue to trust in God's provision for us